Well, It's Only Cable Isn't It?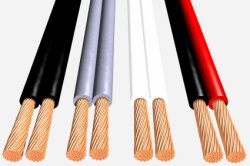 On every lighting control schematic diagram we produce, we detail a couple of manufacturer references for every single data cable type specified on the project. For example, we may specify a Belden 9729 or an equivalent etc.
Whilst the vast majority of electricians we work with, either chosen directly by us or already on the project are proficient, we have occasionally found electricians taking shortcuts at the implementation stage.
We did have a recent situation where an electrician presumably enquired "What cable have we got in the van?" and used inferior cable with insufficient cable cores to those specified on the lighting control schematic. Therefore, we insisted that they removed it and replaced it with the cable specified.
We specify the exact cables for good reasons - optimum performance and long life. Our systems require quality cabling with good insulation that will last and protect all control data signals from interference and damage.