What Does Our Control Lighting Team Do?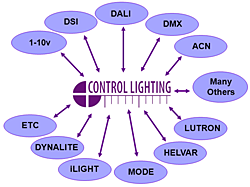 One of the recurring problems in Lighting Control Systems is the myriad number and different range of suppliers and solutions.
A commissioner for one manufacturer can carry out the data programming and "sign off" procedure for all of their own systems but, where the venue has other control systems, the client will need additional commissioning assistance from other vendors.
At Control Lighting Ltd, we are truly independent from all of the vendors. Our expert team can commission complex control solutions that not only cross different vendors but also different product families and multiple control protocols.
For over thirty years, from lighting control at the London Palladium in the 1980s to lighting control at the Olympic Park in 2012, we have saved our clients a lot of time and unnecessary expense!