Just because you can - it doesn't mean you should!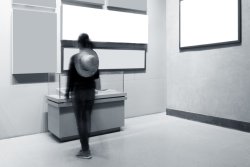 A few months ago we were invited to assist a regional museum with their lighting problems. What we found was one of the most elaborate, all singing and all dancing lighting control systems available; a solution that would not have seemed out of place at one of London's top attractions!
The main challenge, however, was that the system was so sophisticated that the museum curator and the Facilities Manager weren't able to use it to its full capability.
In fact, as they were confused and bewildered by the system's complexity, they had resorted to using it in the simplest possible way, almost as an on/off switch!
There was no user manual and no systems manual explaining how all of the lighting control components were configured. One of Control Lighting's team took some considerable time to understand exactly what system they had and how everything fitted together.
After consulting with the museum staff, we simplified the solution and devised a simple set of programming sequences that would offer practical and effective lighting scenes for the exhibits at the Museum. The system was radically simplified and the result to the users was an increased set of clear and obvious choices, which they could select according to the needs of each room. These limited choices extended the usability of the system rather than diminished it and full user manual and simpler system configuration documentation was also created.