Going Underground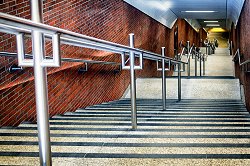 We were recently involved in a project to provide lighting control in an underground passageway that directs people from one shopping arcade to another.
Some of the key features of the solution were the need for sophisticated error reporting to aid in the maintenance and replacement of lamps and light fittings.
Movement sensors were also implemented to save costs and switch to limited lighting when there were no people around for any length of time.
Using Control Lighting Ltd's extensive knowledge of all of the technology available, a customised solution was proposed that combined different manufacturer's components to achieve the best possible solution.
As well as creating a better solution, our combination of different manufacturer's components significantly reduced the overall price of the system compared to offering all of the products from a single manufacturer.
It is our industry knowledge and our ability to select and integrate different manufacturer's products to create the best and most cost-effective solution that sets Control Lighting Ltd apart.