Exterior Lighting Creates An Impact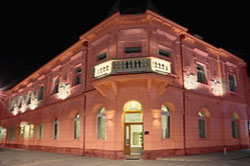 After completing a recent commissioning project in London, we visited the impressive "Blood Swept Lands and Seas of Red" ceramic poppy installation at The Tower of London. As well as being moved by this artwork, marking the centenary of the outbreak of the First World War, it also made us think about how many recent lighting projects have also involved external architectural lighting.
There has definitely been an upsurge in using exterior lighting for special events, particularly in the charity sector celebrating a specific day, week or month.
From lighting a building in the corporate colours during an event through to projecting branding, imagery, and video onto the front of an office block, exterior lighting can be extremely effective in promoting marketing messages.
There does seem to be an increased appreciation from clients that exterior lighting done well can create a significant impact when marketing their messages to the general public.