For A Successful Outcome, Nothing Beats Proper Advance Planning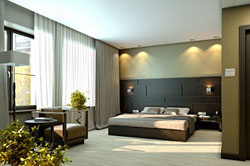 A well-known luxury hotel chain has hired us to evaluate all of their lighting control systems prior to upgrading from old traditional lamp technology and old lighting control systems to more modern, efficient and sophisticated LED based solutions.
They have tasked us to conduct a full evaluation to understand fully what lamps and LEDs are compatible with their existing lighting control system and what are their potential upgrade options with all of the benefits, disadvantages, and cost savings.
By doing all of this work in advance, the hotel chain will take advantage of massive savings over all of their premises.
They will have a complete set of options and recommendations to choose from before a single lamp is changed. Our clients will also receive a full logistical implementation plan that will cause the minimum of disruption to the normal day-to-day workings of their busy hotels.
Yet again it is our 30+ years of experience of these types of projects in both planning and implementation that will ensure the successful and cost-effective transition from traditional technology to LED technology.