Sometimes, The Client Doesn't Always Know Best...!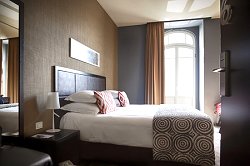 Perhaps we are not supposed to say this but, as experts in our field, we advise our clients on how to achieve the best
results
.
For example, at a new four star hotel in a major UK city, our clients wanted to allow their guests to create their own lighting environment.
They asked us to implement a colour wheel app on a free iPad that would be placed in each room so that guests could create their own colour scheme.
However, we could see that there might be a few problems with this idea...
Ignoring the costs of multiple iPads disappearing off into the night, we felt that the majority of guests will not have the time or expertise to create a truly beautiful lighting environment and this idea will be quickly seen as a passing fad or gimmick.
After some market research, we suggested that each room should offer a choice of pre-agreed lighting scenes using beautiful golds, cool blues and tasteful pastel shades to show off the room design at its best. So their overnight guest will be presented with a simple choice of eight lighting options - with every choice creating a beautiful environment which will make the guest want to return.
So, we still achieved the result that the client was looking for but we used our expertise, tact and diplomacy to guide them to a better solution.