Easing Disability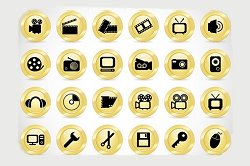 We were recently involved with a very interesting project both technically but also because there was a real human need involved.
The client is wheelchair bound with impaired movement and the brief was to enable him both to work and to maintain a normal and social life as far as possible from within a new "high-tech" apartment.
All domestic systems were to be integrated into intuitive iPhone/iPad Apps. This involved all lighting, audio, window and curtain opening and closing, front door and side door access, alarms and security, washing machines, dishwashers, the lift and air conditioning... just to mention a few of the many systems to be pulled together.
We were invited in to provide the lighting control and we proposed a five tier solution. For every lamp, control would be available at the lamp itself, from movement sensors, from wall mounted touchscreens, from the App installed on the clients' tablets and mobile phones and finally via remote access. All of the table lamps were modified so switching a local lamp off actually sends an "off" signal to the control system, rather than cutting the power - thereby still allowing commands to be received from the other devices.
The resulting system is a technical tour de force but also we can't help by being touched by the fact that the overall solution is helping improve an individual's quality of life and also helping him to maintain his independence.