If It Still Works Well, Why Change?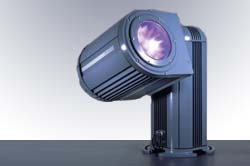 Coloured lighting products have come a long way over the last few decades, especially in the area of moving lights.
The first moving colour changing light was developed by Vari-lite (in America) in the early 1980's with backing from the rock band Genesis.
Using technology from the famous Vari-lite VL5 product, they developed a first in the exterior colour changing market and created the Irideon Luminaires.
The AR500 (pictured right) is still an excellent way of illuminating the exterior of buildings using a variety of colour changing effects.
Whilst there are newer solutions available such as LEDs, Control Lighting Ltd recognise that many organisations have invested their time and money in Irideon luminaires. We have over 20 years experience in implementing and supporting these outdoor lighting products and have spare parts for the Irideon range of luminaires.
This means that we can continue to support Irideon luminaire solutions and can carry out repairs and provide spare parts where necessary.