Could You Make It A Bit More "Christmassy"?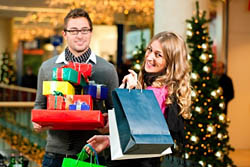 One of our recent projects was to provide the external lighting control in a retail environment.
The project was a success and has been adding to the general public's shopping experience for over six months.
At the beginning of November, our client rang us up with a bit of a problem.
Unfortunately, whilst the lighting schemes proved perfect for the autumn months, they hadn't really finalised on the detail of the look and feel of Christmas when signing off the project back in May. They approached us with a little trepidation that there was going to be a large unplanned bill for retrofitting a Christmas solution back into their project.
Fortunately, they had the good sense to select Control Lighting Ltd for their lighting control! Given our considerable experience of public realm lighting projects, we had already predicted and pre-empted that programme changes will be required. We had deliberately set up options to add additional schemes and sequences as the need arose. So we are delighted to announce that in no time at all our client had their very own "Christmas Button" with a whole set of subtle but festive scenes that are sure to delight local shoppers and national store managers alike when they go live for Christmas.