Leading Edge Office Design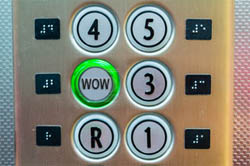 We recently worked on an office refurbishment project for a large financial institution in Manchester. Their project was to create an open plan environment and the level of detail and thought in the design was a joy to behold. From attractive exposed features through to rubberised flooring designed to absorb any sounds of footsteps, the user experience of the staff had been well considered.
With floating light fittings and touchscreens all matched in the exact corporate colours, every detail was meticulously planned - even the precise shape of individual buttons was tailored to mirror a design feature in the rest of the room!
This organisation understands that the quality of the working environment has a direct effect on staff morale, productivity, retention and also the ability to attract the best talent - not to mention impressing visiting clients and potential new partners.
And it didn't stop at the hardware. The design team clearly understood that lighting control was an integral part of the overall solution and they had a clear vision of what they wanted. Our expertise in translating their vision into reality, using cost-effective and future proof solutions was made considerably easier by all of the preparation and planning they had made at the design stage.