Public Realm Lighting For The Community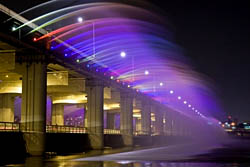 Over the last twelve months we have noticed a growing trend for more exciting public realm lighting control.
In the past, simply satisfying a minimum legal requirement may have sufficed or, at least, there needed to be a commercial opportunity behind the project.
For example, we have worked on many projects in retail areas using lighting and movement sensors to enhance the shopping experience and attract more footfall to the area.
However, when a public space is enhanced and well designed, the community's perception of the area is improved and more people are attracted to visit. It is a well-known fact that fewer people leave litter in a clean and tidy environment and, similarly, studies have found that great design can lead to less antisocial behaviour as a whole, which of course is a great cost justification for these projects.
We have seen a marked increase in these community-based projects, where common areas in parks, fountains, walkways, pavements, external public building lighting has become far more sophisticated. Gone are the days of the two-setting on or off movement sensors complete with 1980s disco primary colour lighting! Public space lighting is becoming far more elegant and sophisticated with tasteful pastel shades, innovative design and subtle user interactivity.
Additionally, newer technology enables detailed live feedback with systems reporting on all aspects of the lighting state - lamp outage, lamp life, remote access, automated detailed commands for different situations. For example, if there is a pantomime playing in the local theatre on Wednesday evenings in January, the lighting on the nearby fountain will be switched to the full winter spectacular programme between 6pm and midnight, before returning to its default January night setting!