Does It Do Exactly What It Says On The Tin?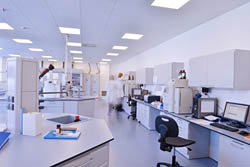 When a manufacturer brings out a new product or a new technical development that appears to deliver the world, some less-experienced lighting control experts may be tempted to include it in a client proposal. However, this is NOT the Control Lighting Ltd approach!
We insist on knowing exactly how each piece of kit will work BEFORE we even draft a proposal.
If we have not used a component of the solution before on another live project, or as part of our research, then we will thoroughly test each element of the solution first. In short, we won't propose the latest products until we have tested them ourselves.
That said, the specification stage for some of the stages of our larger projects can take months. Because we are always reviewing the new technology, we have often switched in a better piece of kit during the design and development phase… but only after we thoroughly tested it ourselves first!