What Does Control Lighting Ltd, The Systems Integration Specialist, Do?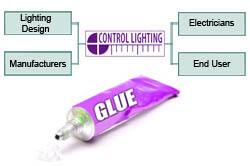 In most lighting projects, there is a client, a lighting design team, luminaire manufacturers and electrical consultants.
We, however, are the glue that pulls the project all together. Nowadays, it is rare for all of the products to come from only one controls manufacturer, so we mix and match the best technical products for the job.
Therefore, a comprehensive understanding of integrating different manufacturers' products into a coherent cost-effective and future-proof solution is essential.
Projects are now becoming more and more sophisticated, which is brilliant for exciting new approaches in design, but, in parallel, are also becoming more complicated so up to date expertise is absolutely paramount. We wouldn't ask our highly qualified General Practitioner to perform brain surgery and, in a similar vein, most electricians do understand that a lighting control specialist with up to date knowledge and over 30 years' experience brings an extremely positive dimension to most projects.
Another aspect of our glue approach is to ensure all parties "stick together" in the right places and our project management skills ensure that everyone knows what they are doing and are happily on board with the project.