New Offices In The West Midlands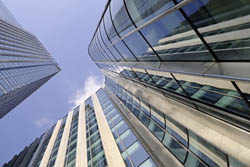 We were recently invited to a new office block in the West Midlands to provide the lighting control for their main stairwell, some feature lighting in their reception area, and also for their lift lobby area.
However, when we arrived, we discovered there was a lighting control system already purchased and installed that managed the main pendant lighting in the reception area and in the adjacent corridors.
We performed our contract as requested to the client's satisfaction and everyone was happy.
However, the fact remains that there are now two lighting control systems with separate control plates next to each other on the walls managing two entirely independent systems. With a little more planning and organisation, one single control system would have adequately provided both solutions.
As it is, the client has spent more than necessary upfront on two separate systems. The ongoing maintenance costs and potential upgrade costs of two systems are all also unnecessarily expensive. Additionally, the lighting solutions themselves are lacking in any sophistication - offering white light at 100%, 75%, 50% or Off. The user experience of learning which touch plate controls which lighting array is also counter intuitive.
The moral of the story is that if they had called us in right at the start of the project they would still have saved money on the initial project. Their ongoing costs would have been massively reduced and also, given our vast experience in lighting offices and public areas, the overall experience of lighting control in their client-facing areas would have been more sophisticated, more imaginative and would have future-proofed that their current solution.