Funny Things People Say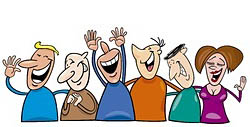 At a recent trade show, we got together with a number of industry colleagues over a meal and we all shared a few of our experiences.
The subject of "it's funny what people say" cropped up and we thought we would share a few funny quotations that different people in the architectural lighting industry have heard over the years. We hope they make you smile!
"Can we schedule the programming of the exterior coloured lighting scheme at 11 AM as I won't be around this evening…?"

"I don't care how much it costs; I just want to save money!"

"Can you send us the Operations Manual six months before you supply the custom lighting control system?"

"We haven't installed all the lights yet but I assume you can program them without them actually being here?"

"Because the light fittings and lighting control system were damaged by last week's flooding, can you please dial in remotely and make sure all the lights are set to green for our event tomorrow?"

"Can we program the lighting levels today please but leave all the lights on full so the painters can finish their work…"