There Is Always A Knock On Effect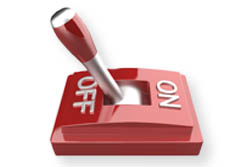 We had an interesting example of how our lighting control systems are at the heart of the lighting setup recently. An electrician at a client site was replacing some light fittings and switched off everything as part of this process. When he had finished the replacement, he switched everything back on again and left the site.
Unfortunately, as described in our bespoke operations manual, when a fitting is replaced and especially on a site where the DALI protocol is used, the Lighting Control System needs to be reinitialised in order to recognise the new light fitting.
This initialisation is a simple enough process but, without following the instructions, the overall lighting scheme will not function as designed and the knock on effect of the change was to compromise the overall solution. Clients and especially their contractors need to understand that the lighting control system is an integral part of the solution and that they need to involve Control Lighting Ltd as soon as possible at all stages of the project to ensure the full potential of their solution is realised and to keep everything operational especially after any changes.