Lighting In The Dark Ages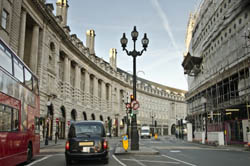 We were recently called in by a world famous London-based retail outlet. As part of a refurbishment, they had replaced all of their store lighting with a manufacturer-based solution. However, every time there was a power outage (still fairly frequent in Central London) the lighting configuration file needed to be reloaded into every processor on every single floor. The manufacturer is the only company who can do this. Similarly, if any light fitting needed to be changed, they had to call out and wait for the manufacturer to visit and pay the manufacturer's callout fees.
This is fundamentally because the system uses closed protocols and no third party can fix or integrate with their system.
In a world of software, mobile phones, and tablets where, with a few exceptions and strange minor glitches, every piece of computer hardware can at least transfer data if not integrate and communicate with most other pieces of computer hardware, this approach does seem like a return to the Dark Ages!
In fact, the team at this famous retail outlet are so fed up that they have asked us to replace the entire lighting control system!
Because we always use open or configurable protocols in all of our lighting control solutions, our clients are not forced to be dependent on us over the life of the solution. Our clients have a free choice to stay with us for ongoing maintenance and future upgrades etc and they do so because they appreciate our levels of experience and service.