New Year's Resolutions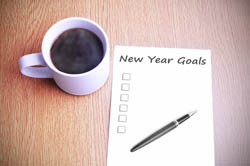 We live in interesting times and the demise of the filament lamp, the increased use of fluorescents and the rise of LEDs are all areas where lighting changes may have been enforced on the user. We recently worked with a restaurant that had some beautiful new chandeliers fitted. They had been told that the LEDs were dimmable but although this was technically correct, the dimming process was very jerky and obvious and highly intrusive to the users' romantic dining experience, so technical advancement doesn't automatically mean a better user solution.
However, New Year is a great time to review the bigger picture of your overall lighting solution.
So, think back to when you first envisaged your lighting solution. Is your current system still delivering what you intended? Is the system fit for purpose? Is it easy to maintain and can you easily change or add new scenes and programmes for different purposes? As your organisation has evolved over the years, has your use of the space changed? And does the existing lighting setup complement your use of the space?
If you would like a better solution then get us in to evaluate what you've got and see how we could reconfigure your system to deliver a new and better user experience.