Does Your Plant Room Look Like A Dog's Dinner?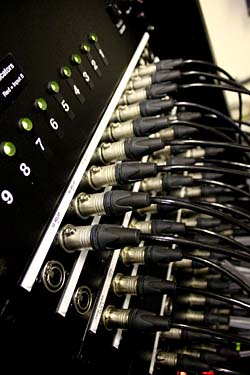 On many occasions, when visiting client's plant rooms during a couple of larger projects, we've come across a mismash of different boxes and different racks mounted in different cabinets around the room - all with a multitude of unlabelled wires coming out from all different directions. Usually this results in the plant room looking like a dog's dinner and a maintenance nightmare! Additionally, so many LED drivers have such small terminals that electricians need specialist tools to attach the field wiring and correctly terminate these connections.
However, if Control Lighting Ltd are brought into the project early enough then we can include LED drivers from different manufacturers completely integrated into a coherent, easy to manage, equipment rack.
We would, of course, have pre-tested the cabinet back at base and then delivered this as one single self-contained lighting control package to the client. So there would only be one wall cabinet for the electrical team to connect to their in-house systems.
By pre-installing these components ourselves, offsite and in advance, we are dramatically reducing any time lost searching for on-site errors.