Training A UK Subsidiary In Lighting Control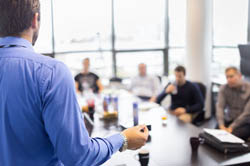 We had an interesting situation recently when a large Northern Hemisphere company bought a UK company, set them up as a subsidiary and then supplied them with lighting control products to sell to the UK market. The UK subsidiary was not previously experienced in this area and so they called on Control Lighting Ltd to assist.
We started by examining and appraising all of their new lighting control products. We assessed their strengths and weaknesses and also suggested enhancements to feed back to head office.
With our comprehensive knowledge of the market we could see where some products were better suited to specific industry sectors and also other sectors where competitive products may mount a challenge in a sales situation.
We then trained the team in all aspects of Lighting Control before drilling down into their marketing plan and seeing where and how they should consider promoting each product. As a result of our consultancy help, the UK subsidiary is now far better equipped to market and deliver these new control products across the UK and Europe on behalf of their new owners.