Art Enriches Our Lives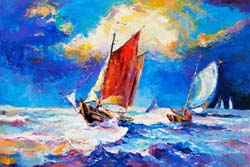 Lighting control isn't just for practical and commercial solutions such as improving your working environment or providing a better experience for visitors to retail outlets and attractions, it also lends itself very well to those with an artistic temperament. Whether you are moved by music, painting, architecture, fine wines, or the natural beauty of an unspoiled rugged coastline, our lives are enriched and renewed often in an intangible way by regular exposure to artistic and creative stimuli.
In celebration of those visionary designers, here are a few examples of artistic projects that we have loved being involved in.
Firstly, we enjoyed the auditorium ceiling that replicates changes in the sky in real time. As wispy clouds roll by outside, our lighting control scheme introduces our wispy clouds. Whether overcast and rainy, or bright August midday sun, we mimic the weather and bring the outside inside. The effect is subtle and meanwhile the space is being used for its primary purpose but it puts a smile on the faces of those who occasionally look up and notice the changes.
Secondly, we enjoyed the footfall barometer. The featured lighting was completely linked to the number of people entering the establishment and would change as higher numbers moved through the doors. Visitors would be unaware that they were causing the change but the staff could simply glance at the feature and gain an immediate impression of the day's footfall.
Finally, in this article, we loved the welcome silhouette. A dramatic silhouetted sculpture represented the different professions in the organisation from sales to technical, from management to financial etc. As a member of staff arrived and swiped their entry card, the corresponding section of the sculpture lit up in welcome to that team member.