Why Remote Monitoring Is A Game Changer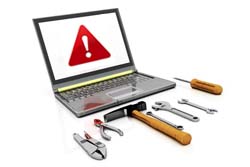 We recently saw the importance of remote monitoring at a client site. The onsite maintenance team at a multi-purpose venue had run their daily check in preparation for an evening event. However, at 4pm, they received a notification via both text and email that the handrail light fittings on the main staircase had failed. They discovered water ingress from a heavy downpour was to blame and were able to block off the leak and replace the fittings before the venue doors opened to the public at six o'clock.
As this event occurred in June, the fault would probably not have even been noticed when the public entered in bright natural daylight. However, with a crowd all exiting down the main staircase at midnight, this could have been a dangerous situation.
We love remote monitoring because it enables problems to be fixed before anyone actually using the space has noticed that there is a problem. So, done properly, remote monitoring is a game changer and is now essential in the day to day maintenance of your lighting control system.