Please Do Accept Our Help!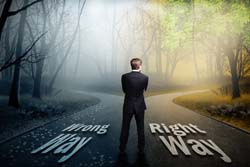 In our previous newsletter, we mentioned that we help the electrical contractors employed on the project by offering to lend them our test equipment so they can check their wiring and cabling for DALI and DMX compatibility as they conduct their installation. We also provide detailed specifications to ensure that they understand that there are different requirements when cabling for data rather wiring than for power.
As if to prove this point, we've recently been involved in two similarly sized projects.
On the first project, the electrical contractors were very engaging, accepted our help and worked closely with us to complete their testing before we arrived onsite. On the second project, the contractors informed us that their own long-established testing routines were perfectly adequate and they would notify us when they were ready for us to arrive onsite to commission the lighting control. Both contractors were given detailed specifications and were offered use of our test equipment.
Unfortunately, on the second project, the contractors had not followed our advice or specifications and had completely failed to understand the requirements of today's modern digital-based lighting control systems. We were unable to continue commissioning the lighting control until the electrical contractor has redone the wiring and cabling according to our specifications.
The first project is now complete, delivered on time and within budget and we all have a very happy client. Sadly, the second project has overrun and is still not complete and the electrical contractors have unfortunately created a difficult relationship with their client…