What Are Control Lighting Ltd Up To At The Moment?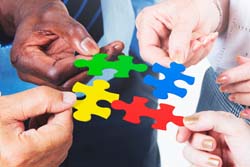 At Control Lighting Ltd, we are the team that works with the electrical consultants and the luminaire manufacturers in order to deliver the vision of the lighting design team and the requirements of the client. We mix and match the best technical products for the job from combining the best protocols, DMX and DALI, for example, with different manufacturers' products into a coherent cost-effective and future-proof solution.
We are told by both our clients and by our partners that we excel in four main areas. Firstly, over 30 years' experience enables us to get right into the detail of every project. As a result, the quality and detail in our technical documentation - from specifications to user manuals is second to none. Thirdly, we are renowned for our forward planning to minimise onsite errors. Fourthly, we extended our planning capabilities by moving to larger premises with room for complete pre-site full assembly and testing of all components - as well as offering new facilities for off-site training.
The projects we are involved in are now becoming larger and more and more sophisticated. A few of the longer term and large scale projects that we are currently involved in include working for the high-end retail market, for leading food and drink brands, for multi-location venues, for innovative public realm developments, and for improving the user experience at major transportation hubs.