Not Having A Maintenance Contract Is A False Economy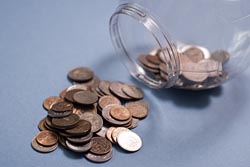 This salient point was demonstrated by two recent callouts.
Firstly, we received a call from a high profile health club, where, over four years, ago we installed a lighting control system and programmed scenes made accessible via user friendly touch screen technology. The caller told us that the system wasn't working and so we scheduled an emergency visit. Speaking to their local electrical support engineer, he explained that he simply needed to "bang a couple of times on the electrical relays" and then all the lighting would function properly again! Not a great solution but our callout fees could have been prevented by spending less than £100 on a few new relays!
Secondly, a large shopping mall called us in as our "light settings were too dim and therefore must need reprogramming". When we arrived on an emergency visit, we discovered that, over time, at least 20% of the lamps had blown and had never been replaced and this was responsible for the lower levels of light! Unfortunately for our client, this exercise was rather an expensive way of replacing lamps.
Both clients had originally declined our offer of a maintenance contract with regular scheduled onsite visits and offsite remote monitoring, which would have prevented these problems from even occurring and saved our clients more money than our subsequent callout fees.