Remote Management At An Apartment Building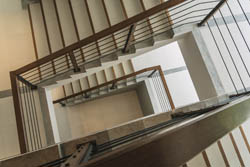 You may remember a recent story where we enabled a local council to control the lighting of the town's multistorey car park remotely from their offices.
One of the key benefits was that they only needed to light the third floor of the car park on winter evenings when the local theatre was running a performance. We were recently asked to install similar lighting control throughout the public areas at an apartment complex.
The new lighting control system means that the lighting in the corridors and stairwells now coincides with the different daylight times as the seasons progress.
Remote reporting means that any faults will be flagged to the maintenance teams as soon as they occur, enabling a far faster response than waiting for a resident to complain. In many cases, faults can be rectified before the residents are even aware that there is anything wrong!
It also enables the maintenance teams to log in remotely and run a complete fault find routine prior to any maintenance visit. This means that they should always have the appropriate replacement parts with them before they go onsite. This solution provides a better service for the residents and is also far more cost effective as maintenance visits can be less frequent and will be primarily geared to fixing known problems quickly and efficiency.