Experts For The Experts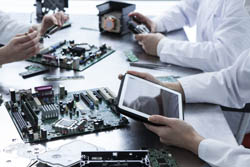 Like most manufacturing sectors, the lighting industry is under constant pressure to innovate and to come up with new fancy "bells and whistles" to add to their product portfolio.
However, this sector is moving so fast that often manufacturers don't always have the real world experience of using these enhancements in the real world at the client site.
What may look good on paper or in the development laboratory isn't always going to be the best solution in the real world.
Fortunately, the team at Control Lighting Ltd spend most of their time working directly with clients devising lighting control solutions that deliver the lighting designer's vision. These solutions can be complex and often involve multiple lighting protocols, including DMX and DALI, and may also combine different manufacturer's kit to create the best solution.
So it makes perfect sense that the Control Lighting Ltd team are regularly asked to evaluate and test new software and hardware, often in pre-production, for various manufacturers. We are also invited to offer suggestions where each piece of kit can be improved.
We are completely independent and very sensitive to the confidential nature of the work and no-one, apart from the actual manufacturer, will know which products we have evaluated or what we suggested.
It's fascinating to be involved in new products at such an early stage and given our extensive experience of all types of controlled lighting, it's great to be able to influence future developments for the benefit of future customers.