What Have We Broken?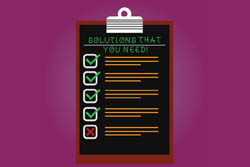 There is a marked difference between most in-house fault reporting and the remote access reporting systems from Control Lighting Ltd. With most in-house systems, the maintenance team will see that there is a fault in the lighting on the fifth floor, for example. They will need to investigate and will wander up to the fifth floor and see what is wrong. Once they have diagnosed the fault, they will go and collect the new parts needed and fix it.
However, Control Lighting Ltd's Online Monitoring and Remote Access solutions can include our specific solutions database. So when we report a fault, we suggest what may be wrong and refer specifically to the light fitting number AND supply the details required to fix it. For example, we may report that light fitting 1534 has overheated, AND that the team need to take this particular make and model of light fitting, this particular lamp, this particular type of ballast, and this particular driver with them to rectify the problem. We also supply the technical identification number that the DALI or DMX protocols are expecting. This saves time, makes the maintenance task easier, and more often than not, ensures that the problem is fixed before the end user notices anything was wrong!
We can deliver this information automatically by email or text etc as required or this remote alert can prompt our support team to make a phone call to the client maintenance team - whichever is preferred by the client.