Supporting Electrical Contractors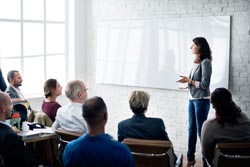 As technology continues to advance at a rapid rate, it is becoming more difficult for non-specialists to keep up with the new developments in lighting control. With integrations between different lighting protocols offering new opportunities for designers and clients to achieve high levels of creativity, it becomes more important that electrical contractors understand the exact cabling requirements necessary for a successful implementation.
We therefore run specific training courses and always provide detailed specifications to ensure that they understand the different requirements when cabling for data. We also lend our test equipment to the electrical contractors employed on a project so they can check their wiring and cabling for DALI and DMX compatibility as they conduct their installation.
In the past, projects have incurred unnecessary delay and increased costs as we have been unable to continue commissioning the lighting control system until the electrical contractor had corrected and redone the wiring and cabling according to our exact specifications. Fortunately, many electrical contractors are now following our advice and accepting the necessary help to ensure that everything is done correctly the first time and therefore keeping the costs on budget.