Value Engineering Can Be Disastrous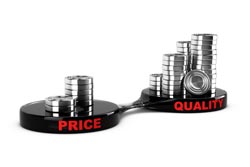 Although this story did not affect us directly, we wanted to share our observations on part of our industry that could benefit from greater scrutiny.
We've noticed an increasing number of examples of where value engineering is performed to save costs but actually has the opposite effect. For example, a lighting system may be specified with each specific component deliberately chosen by a lighting designer.
A construction company wishing to win the project may sometimes substitute these components with less expensive items in order to submit a lower quotation and win the business.
Sometimes, these substitutions are simply incorrect. The new items will not work with the lighting protocols specified, for example. Sometimes, these new products are simply of inferior quality and will need replacing faster reinforcing the adage of buy cheap, buy twice.
However, the biggest problem that is more difficult for the non-expert to detect is that these cheaper products will not have been through the same extensive research and development processes and real-world testing as the more established components.
We heard about a recent horror story where the specified luminaires had been replaced with cheaper options. These cheaper drivers and fittings were placed together in the confined space of the ceiling unit and, after only two weeks' continual use, they caught fire. The original luminaires had been deliberately specified because of their low operating temperature when working together in a confined space. Fortunately, the building's fire prevention systems worked well and the fire was contained but there could have been a disastrous outcome.
The cheapest bid is seldom the best long-term solution and it is essential that organisations hire experts with the proper experience over the long-term.