Control Your Lighting From Your iPad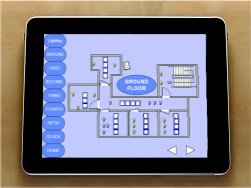 In previous articles, we have reviewed and discussed specific wireless touch screen systems. Manufacturers are now releasing specific applications for the iPad, iPhone, iTouch, and Android systems - e.g. Lutronís Homeworks, Modeís Floorplan, and ETC's iRFR apps.
Control Lighting Ltd are delighted to announce that we can make any venue's lighting controllable from your smart phone.
The advantage is that you can actually stand directly under light fitting no. 23 whilst you adjust it to 50% or be sitting in the dress circle as you change the intensity of lights nos. 41-51 etc.
In the home, this can range from switching off the hall light from the comfort of your bed, to switching between different lighting moods from your sofa in the living room etc.
In the commercial environment, this could also be very useful for emergency lighting testing. This means that you could automate a 3 hour test to run at 2am and produce a detailed report. Your technician would be informed that light fitting no. 18 on the fifth floor has blown and needs replacing.