Retrofit Lighting... Wirelessly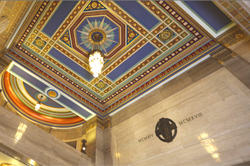 Imagine a luxury apartment in Chelsea - freshly renovated in beautiful and expensive wallpaper with an immaculate and perfect finish.
Now imagine the distress caused when the client realises that they needed an additional ceiling light fitting and realise that a channel for the electric switch wires has to be cut into the walls through their costly decoration project!
Another one of our clients has one of the finest Grade 1 listed Art Deco buildings in the UK. It is neither desirable nor feasible to chop up the décor of this listed building in order to install a new lighting solution.
Fortunately, once again, help is at hand.
Power can be taken from an existing source - i.e. the nearest light fitting and, at the same time, a wireless receiver can be fitted to the new light fixture. A wireless switch plate, powered by a long-life battery, can then be fitted in any position on an appropriate wall, giving complete control without rewiring the room. Light fittings can now be controlled both wirelessly with switch plates and also by using portable remote controls.