"I Work All Night, I Work All Day..."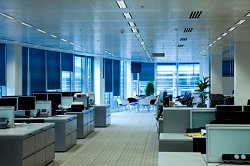 A few months ago, we were working at a financial services company in London. As their offices are in use 24/7, they needed a lighting solution that would work well both day and night.
To save on their energy bills, we used daylight harvesting to adjust the lighting levels automatically depending on the amount of natural light coming through the windows.
The solution also gradually increases the tonal warmth of the white light LEDs as it gets darker outside and then cools as the sunlight comes through the windows in the morning.
We also installed wall switch plates so that night staff can adjust these settings as required. They also needed manual override control so they could deliberately dim the lights for powerpoint presentations, for example, but without the lighting automatically compensating for the darker conditions!