Split Personalities In The Conference Hall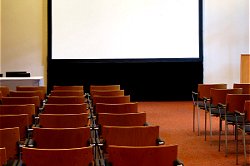 Lighting an international conference centre introduced some interesting challenges. The conference centre featured an enormous hall, which could be partitioned to create three separate large rooms.
The challenge was to design a single lighting control solution that would give full control over the whole hall or to each room individually depending on the configuration.
As the lighting control solution will be used by different companies on different days, it had to be easy to use.
The solution was to equip each partition wall with sensors so the lighting control system would know whether the room configuration was one room, two rooms, three rooms, or the whole hall. The system also automatically updates the settings for the switch plates on the walls by the door of each partitioned section. Additionally, portable lighting desks can be used in all of the room configurations and they will also inherit the settings of the room in which they are used.
Our lighting control system provides full control over the white light LED scheme for one room, two rooms, three rooms, or the whole hall. We provided a reset button, so every new client will start with the default settings for the appropriate room configuration on arrival.