"Would You Like A Newspaper In The Morning?"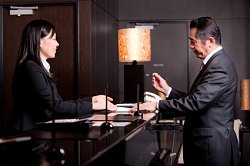 Right in the heart of central London, there is a deceptively large boutique hotel with over 100 rooms spread over eight floors. Control Lighting Ltd were brought in to provide the lighting control, which featured biodynamic white lighting LEDs in every room. We also provided the lighting control in the corridors with sensors that detect movement to switch the lights on and then dim them over time or switch them off completely as appropriate.
We also provided feature lighting for the lift lobbies.
Our controlled lighting solution included daylight harvesting to reduce energy costs and also automated the mood settings for the colour tone of white. The white mood setting becomes warmer in the afternoons but then cooler in the mornings, when the guests are waking up and rising for breakfast.