LEDs Are The Way To Go, But...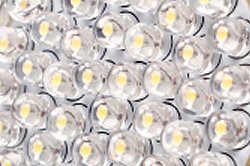 LED lighting offers tremendous benefits compared to conventional light sources including longer lamp lifetime, less power used, less heat produced, less sensitive to movement etc, but it is essential to use the correct lighting control. There is a right way and a wrong way to control LEDs. If you dim an LED with the wrong control product, it is likely that you will damage both the LED driver and the control system.
Additionally, you will seriously compromise the lamp life and the wrong setup can dramatically reduce the potential brightness of the lamp.
As this technology has developed there are more and more control products available on the market. It is essential that the control system and the luminaire electronics are compatible.
Forty per cent of our current projects utilise non-traditional light sources. More and more offices and meeting rooms are now using LEDs. We are being brought on board to be the technical project manager to assist with this form of light technology and to ensure that the client can operate it as if it were a normal fluorescent/halogen lighting scheme.
The bottom line is: Always consult with an expert in this area. (i.e. us!)