Project Managing The Installation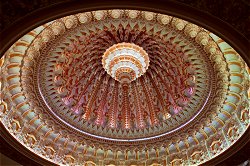 Another of the key factors that lead to the success of the BAPS Shri Swaminarayan Mandir project was the close project management of the installation process.
This project involved over 1000 light fittings and used three independent electrical installation companies and their employees. During the first few months, we visited the site every two weeks to consult with these companies.
We were able to implement any structural design alterations as requested by the client.
As the project neared completion we were on site every week to ensure that everything would be perfect for the grand opening in October.
Phone calls and emails are essential tools in keeping in touch during a project but there is no substitute for physically being on site to ensure the success of the installation.
As part of this same project, we designed and installed a full theatrical network of lighting bars and created additional "plug in" locations for future events. This gives the stage the full flexibility of lighting arrangements - for example, a floor mounted light fitting can easily be added and plugged into the new facility panels located around the stage area.
We have also ensured the whole theatrical solution has been wired for DMX and Ethernet to allow for future expansion of control channels. With the new wave of lighting products, one single light fitting may use up to 40 channels to control C M Y, pan, tilt, colour wheels, GOBO, Prism or Image settings etc.