No Reason To Be S.A.D.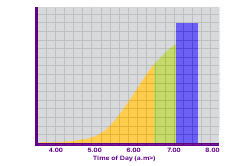 We've recently been working for a lady in Wales, who suffers from S.A.D. Seasonal Affective Disorder. She is an entrepreneur who spends six months of the year in Los Angeles and six months of the year in the UK.
She feels fine in LA but is affected in the UK. In her house in Wales, we were involved with two solutions to this problem.
Firstly, in her bedroom, a system of nine attractive tiles was installed on her ceiling which combined warm and cool fluorescent lamps.
At 6.30 every morning, the warm lights come on for 15 minutes. Gradually the intensity of the cool lights increases over a half hour period and delivers a high level of light for half an hour. The result is she is energised and ready to start her day at 7am. A similar warm/cool light system was installed in her study.
What is interesting about this project, is that the tone of the light is constantly changing. Every 6 minutes the lighting tone grows slightly warmer or slightly cooler depending on the time of day and the result required. This emulates the behaviour of natural light during the day.
There have been numerous studies that show that the quality of warm and cool light in the workplace can have a direct influence on productivity. Studies show that productivity, particularly in office and factory environments, improves where changing white light emulates the behaviour of natural light. As experts in lighting control, we are finding more organisations installing these solutions over time...