High On The Ocean Waves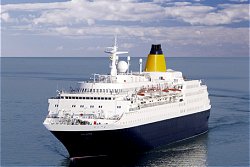 The Saga Sapphire is a spectacular cruise liner that has recently undergone a multimillion pound refurbishment before setting sail on her inaugural cruise from Southampton during March 2012.
Following successful projects for sister ships Saga Ruby and Saga Pearl II, we were delighted to be invited to Palermo in Sicily, where the Saga Sapphire was undergoing a full refurbishment.
We were asked to commission the lighting control systems for all of their public and internal leisure areas on board this fabulous cruise liner.
We implemented the easy to use lighting control systems for their auditorium for stage shows, bands etc, their various bars, their learning room for lectures and seminars etc, a delightful piano bar and library as well as all the restaurants.
We also commissioned the lighting control for their East to West specialist restaurant that provides fusion and Chinese dishes. We ensured that the lighting control met their requirements of the designer, and the ship's crew.
Repeat business from our existing clients is always a good sign that they liked and respected our previous work and we are very pleased to be working with Saga again.