Aberdeen University Library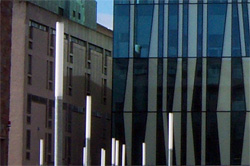 Many of our recent projects feature "triggers" and they illustrate that triggers offer so much more than simply just flicking a switch or a timer coming on at 10am, for example.
A good example is a recent project completed in Aberdeen. Throughout the avenue approaching Aberdeen University Library there are a number of artistic street lighting columns.
On each column there are three movement sensors which detect the presence of people walking down the avenue.
As an individual approaches one of these columns, many of the surrounding columns light up - bathing the walker in a pool of soft white light. As the walker continues his journey, more columns ahead light up and the columns behind will dim back to their default setting.
This produces a very pleasing and interesting artistic effect as different areas of the avenue are lighting and dimming and as people pass. This also saves electricity as the avenue is only fully lit at night and when it is actually in use.