Keep It Simple...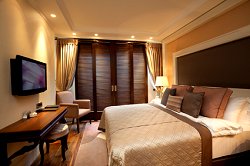 Whilst one can install movement sensors to detect the presence of guests in their hotel rooms, sometimes a simpler solution can work just as well.
Visitors to European hotels will be aware of the electronic cards and card switches that are used to access their hotel rooms. Once in the room, the guest places their entry card into a card switch on the wall of their room.
This also switches on the electricity in the room.
When the guest wants to leave the room, they will need to take their card with them. Removing the card from the card switch automatically turns off all of the electrics in their room, saving the hotel a lot of money in electricity bills.
Simplicity works and it saves money. Sometimes the simplest designs are the best and most cost effective.