Light And Build Exhibition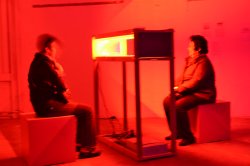 The Light and Build exhibition in Germany is one of the biggest exhibitions in the world and also is a great forum for light artists to present their latest work.
We've been working with the artists LeoLightDesign who created Lightwell; a work that combines seating and lighting in very interesting and artistic way.
The art work consists of two seats between a large screen. As you sit down on one of the seats, it automatically begins to vibrate. This triggers a sequence of different vibration and lighting changes. As each vibration occurs, the screen displays the appropriate colour that corresponds to the same frequency.
This sequence runs through a programme of nine different vibrations and light changes and delivers a very interesting experience.