A Private Function...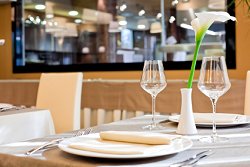 We have been working at a new private club in the heart of London's Mayfair.
With a basement dance floor and break-out areas, two restaurants and multiple bars, three private dining rooms, a courtyard, and a traditional library complete with leather back chairs, this was a great opportunity to create imaginative and effective lighting.
We were brought in as the specialist systems programmers to program the lighting control. This also involved mapping and testing over 300 circuits and then creating scenes that the client is able to adjust from a touch screen without needing to call in a specialist.
The challenge was to create a control solution for the client that balances ease of use for day to day operation with the flexibility to allow changes as required. The client and lighting consultant now have the ability to walk from room to room, with an iPad in hand, reprogramming the lighting levels. Due to the organic way this particular venue changes the room decoration and layout, a simple flexible solution was the no. 1 priority.
For example, on the iPad, we created lighting scenes with the content of each room detailing the various dedicated lighting circuits. If the client changes the artwork, he can then increase or decrease the brightness of this scene simply by adjusting one fader.
This allowed the client to adjust the brightness of each lighting circuit and re-record the lighting scene but we ensured that the settings, such as fade times and button assignments, were not clouding the operation of the touchscreen.