A New Vision For Leicester Square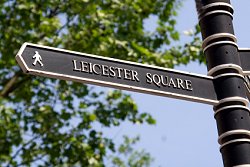 On 24th May, London's Leicester Square was re-opened to reveal a new look that includes 12,000 square metres of granite paving, stainless steel mirrored railings and a water feature that sends jets of recycled water two metres into the air.
We were invited to provide the lighting control for the new vision which included 12 street lighting columns, each with LED spot lights which illuminate the walkway and the statue of Shakespeare.
We also provided lighting control for the under bench lighting and uplighters in the trees which create a wonderful scene as dusk descends on the Square.
We provided the DALI lighting control system, installed and commissioned the control project. All the lighting is controlled by automated timing but we also provided manual overrides so the lighting can be manually controlled during specific events - such as film premieres, for example.