Relocate or Upgrade? That is the Question...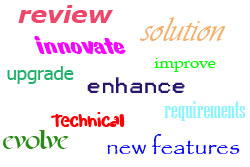 One of the things we've noticed in this current economic climate is that organisations are not moving premises as much as they used to. However, as a consequence, they are reviewing and re-evaluating the systems they already have and looking at how they can improve them.
For example, a major London corporation recently reviewed the use of its conference rooms.
They discovered that the way one very large room can be subdivided into three smaller rooms could be easily improved. With upgraded switch plates in each smaller room and some reprogramming of their existing control system, the system would always know the exact configuration of the rooms.
Each switch plate would be automatically updated depending on whether it was controlling the whole room or a smaller room.
These reviews are worthwhile as technology in the lighting controls world is constantly changing and improving. In particular, the impact of the wireless tablets for controlling lighting is a great advance. Usually, there are better ways of achieving the desired solution than those implemented five years ago - and these can also represent cost savings over time.
Finally, the costs of making these improvements can often be taken from the maintenance budget rather than an additional capital cost.