Remote Control Really Means "Remote" Control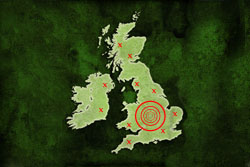 We recently completed a project for a six storey Scottish car park! During weekdays all six storeys are used by business people and shoppers.
After 6pm and at weekends, the public only use the first floor and therefore the lighting for the other floors can be programmed to dim and finally switch off to discourage parking.
However, the town theatre and other attractions are near the car park and, during popular evening events, they attract enough cars to need three floors to park between 6.30pm and 11pm. Previously, they would send round an official to adjust the lighting in the car park.
Control Lighting Ltd devised a truly remote solution - from the council offices, the lighting sequences can simply be switched from programme A (first floor only) to programme B (three floors from 6.30-11pm) and back again as required.
Taking this concept to the next level, we are talking to a retail chain about controlling their Christmas window display lighting for all their outlets throughout the United Kingdom from their head office. As an example, on November 1st, a manager at head office can effectively press one button which will start the Christmas window display lighting sequences in all retail outlets throughout the UK.