Are You Using The Right Protocols with LED?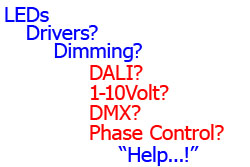 In a previous feature, we promoted the benefits of LED lighting compared to conventional light sources - namely longer lamp lifetime, less power and heat used etc.
We also pointed out that if you attempt to dim an LED with the wrong control product, it is likely that you will damage both the LED driver and the control system, and seriously compromise the lamp life.
As almost 50 per cent of our projects now involve LEDs we've a developed a demonstration kit to show exactly what we mean. This demo kit consists of four LEDs, each one controlled by a different manufacturer's driver. We have connected them all to our control system but each one is connected via a different lighting protocol.
The performance of each LED is dramatically different based on the DALI, DMX, 1-10Volt, and Phase Control methods. In one example, dimming the lamp works well. In the other three, the dimming effect moves from clumsy, to clunky, to frankly awful!
We are even aware of a project when the desired dimming programme was switched to Full On or Full Off simply because the wrong combination of drivers and protocols lead to a displeasing effect.
Again, one size doesn't fit all and all lamps, drivers, and protocols have their strengths and weaknesses. Fortunately this is our area of expertise - so, with our help, you can be sure to get it right first time!