Using DMX with Emergency Lighting Systems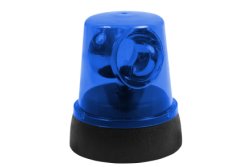 In most emergency lighting situations, a loss of mains power simply means that a trickle charged battery connected to the emergency light fittings will take over and automatically supply power to light the emergency light fitting.
This will give adequate lighting at full output for a minimum of 3 hours, which should be ample time to cope with the emergency situation.
The problem with DMX lighting implementations in this scenario is that brightness level instructions to the light fittings are sent as a DMX signal.
Therefore, if the lighting levels in a room were low and a power cut occurs, even though the emergency lighting is connected to a backup battery, the loss of power could mean the DMX signal has disappeared and as the light is receiving no new instruction to go to full brightness, it will not illuminate at the required brightness.
We encountered this situation recently in a suite of meeting rooms in a London office block. Their implementation had used DMX drivers to deliver powerful dimming features but the DMX drivers that had been supplied were not sophisticated enough to be able to react to a power failure.
More sophisticated DMX drivers can detect that a power failure has occurred or that the DMX signal has been lost and therefore to have a default setting that is triggered by these events. Typically, this default setting is to switch all light fittings to full output or to maintain the previous instruction - therefore, those emergency light fittings with battery backup will illuminate as required.
For our London office client, it would have been very expensive to retrofit and replace all their drivers with more sophisticated DMX drivers that are capable of detecting a loss state.
Fortunately, Control Lighting Ltd were able to supply a special trickle charged battery-powered emergency control box, that will detect any loss of power or data on a DMX system and will then send out a default DMX signal that will instruct the emergency lights to go to full output.